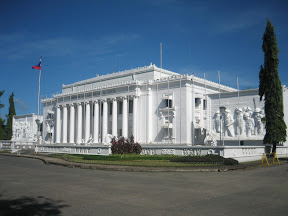 The title is literally translated as the Capitol of the Province of Leyte. This building is located at the corner of Sen. Enage Street and Magsaysay Boulevard in Tacloban City – the capital of Leyte, Philippines. The façade is along Sen. Enage Street. It was built in 1907; and the seat of the Leyte Provincial Government. The incumbent Leyte Governor is Carlos Jericho Petilla.
In 1944, it became the seat of the Commonwealth Government of Philippines when the then President Sergio Osmena came in with the WW II Liberation Forces.
I have been to
Tacloban
City
countless of times since 1985; but only sighted this beautiful structure last Wednesday.
I wasn't able to explore it then yet; as I was catching my flight for
Manila
.
When I return to Tacloban, I'd make it a point to explore it.
I SHALL RETURN!