Heavy is this week's
PhotoHunt
theme.
While boarding my plane yesterday morning, I saw the plane and thought of making it my subject for this theme.
Commercial Passengers Airplanes are no doubt very HEAVY. Despite their heft and even with hundreds of passengers and tons of cargoes in them, they can still fly. Thanks to the Wright brothers - Orville and Wilbur.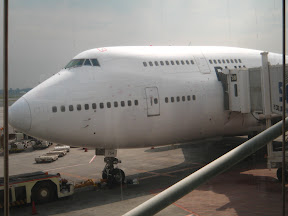 This is the picture of the Boeing 747-400, which I took from Manila to Cebu City yesterday. The passengers of this plane had HEAVY feelings because our flight was delayed by about one hour and a half. Snacks and drinks were served to these passengers to lighten their feelings.
photohunt
(My 9th entry)