Another
PhotoHunt
day with the theme "
NARROW
". I had a hard time looking for my subject for this theme. From my photo files, I think this is the most appropriate.
Baguio City is the summer capital of the Philippines and is known as the City of Pines. It is a highly urbanized city, with about 49 square kilometers and an elevation of about 5,000 feet above sea level. It is about 4 to 6 hours away from Manila, depending on the time and day of your travel. There are three main arteries going to and from Baguio City: Kennon Road, Marcos Highway, and Naguilian Road. Of the three, Kennon Road is the
NARROW
est, the windest, with sharpest curves, the steepest, and the most dangerous due to frequency of landslide.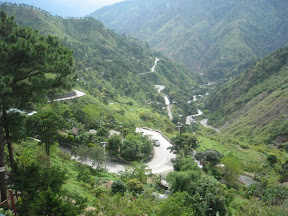 The Kennon Road from the View Deck
Despite of Kennon Road's conditions, I still use it on my way up to and down from Baguio City; because it is the shortest, the most exciting and thrilling way, and with less vehicles traversing. Buses, trucks and other heavy vehicles are prohibited from using this road. And, most drivers prefer Marcos Highway.
photohunt