I officially joined the
$150 anniversary contest
of SEO Expert
Marhgil Macuha
despite unknowledgeable about SEO (Search Engine Optimization).
I first posted my
entry
, unofficially yet, in my "
Think Of Me!
" blog at
i.ph
.
When I Google searched for it, it wasn't in the first 10 pages; and, I didn't explore the subsequent pages anymore.
I exported it to my "
Think of Me & Laugh
" at blogger.com; and, I was surprised it appeared on the third page.
The day after, it moved down to page four.
When it returned to page three after several days, I joined the contest officially.
At p. m. today, it is on the first page of Google Search at number six.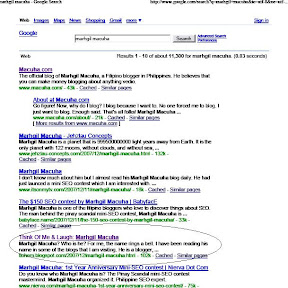 Wow, I feel elated. Being seen on the first page is already a feat for me; and I feel being the winner already. I still need to wipe out the first five over me and that includes Marhgil Macuha's slots. I didn't bother to check the Yahoo Search yet. I don't know though if the reading that I'm getting is correct and accurate. I will check SEO expert Marhgil Macuha's perspective.
Wish me lots of luck.