Christmas is really in the air. When September (the first "ber" month) set in, Christmas songs could be heard over the radios. When you go to shopping malls, lots of Christmas items, trees, lanterns, etc. are already on display for sale. Most shoppers have already started shopping Christmas decorations and gifts for their loved ones, relatives and godchildren. In some cities, their main roads have already been decorated with Christmas decors and lights. While on my way home tonight, I noticed some houses already sparkling with Christmas lights.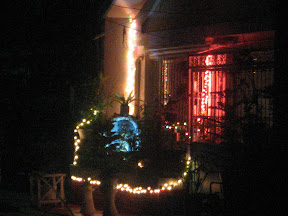 We normally start decorating our house starting on the first day of December and remove them after the Three Kings celebration.
Well, the countdown says it is 46 days to Christmas Day. I think I have to greet you now: "Advance Merry Christmas"!